GUEST TABLE DINNER (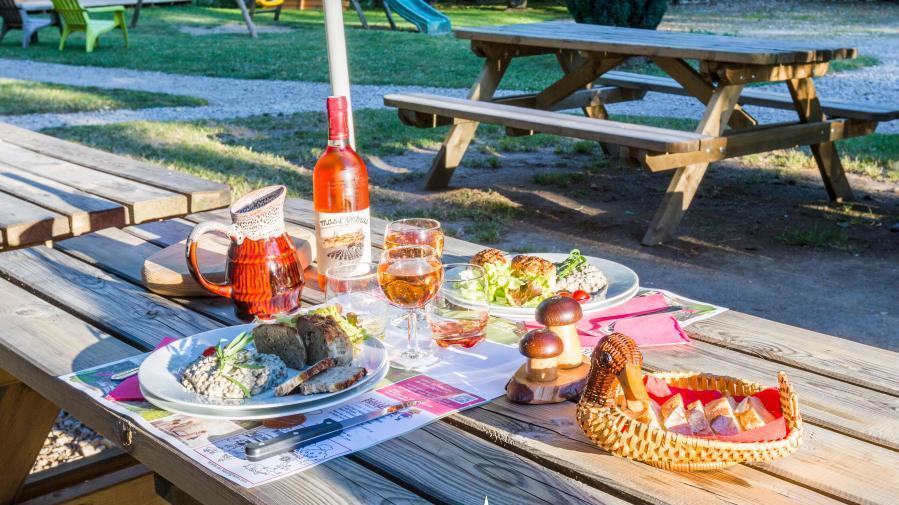 A friendly atmosphere and a local cuisine prepared with fresh and regional products...


The "table d'hôte", 25€ per person on Saturday evening (on reservation only).

A single menu with appetizers, starter, main course, cheese, dessert, organic wine and coffee included.

Examples of home cooked starters:
Puy-en-Velay lentil salad and Vourzac smoked trout
or
Yssingelaise salad accompanied by its grilled fourme toasted bread
or
Auvergnat Pounti (vegetable cake, with meat and plums).
or
Mushroom tart from our forests (ceps Tarte aux champignons de nos forêts (cèpes, girolles ...).

*****
Examples of home cooked main courses:

Roasted caillette with protected designation of origin green lentils from Puy en velay and "Bleu d'Auvergne" (blue-veined cheese)
or
Free Range supreme chicken with ceps and chestnuts, accompanied by its home cooked gratin
or
Velay black leg of lamb roasted in the oven during 7 hours, accompanied with its cep flavoured mashed potatoes
ou
Veal sauté with girolles and potato gratin

(Our meat, vegetables and potatoes come from local producers).

*****
Auvergne cheese platter
*****
Example of home cooked desserts:

Puy en Velay's Verbena crème brûlée
or
Apple pie, with nuts, blueberries or raspberries
or
Peer, strawbery or raspberry chocolate fudge
or
Crumble or clafouti with seasonal fruit
Children aged under 10, rate 12€

s,
8 € for children aged under 6,
free for children aged under

Gourmet slate 25€/ person
served directly in your room/suite or terrace.
Variety of Auvergne and Ardèche specialities.
Wine included (Ardèche organic wine).

Bon appétit !


For more information, call us : +33 6 61 93 44 79